"President Olusegun Obasanjo has taken Nigeria as low as she has ever gone. This will surprise foreign "friends" of Nigeria who may believe the myth that Obasanjo has been fighting to end corruption in the country and to bring democracy to its citizens. Nigerians know better.
"President Obasanjo has had the opportunity to rule Nigeria for three years (1976-79) as an unelected military dictator and later for two terms of eight years as a retired general/civilian (1999-2007). People don't exactly remember what Obasanjo did in his first civilian incarnation. His second coming, however, was a different matter. He unfolded a gigantic scheme for staying in power beyond his tenure. He set up agencies with long titles like the Independent Corrupt Practices Commission, the Economic and Financial Crimes Commission and the Independent National Electoral Commission. It soon became clear, however, that these devices were not intended to curb the crimes they enumerated but to go after people who disagree with the President, especially on his desire to extend his tenure.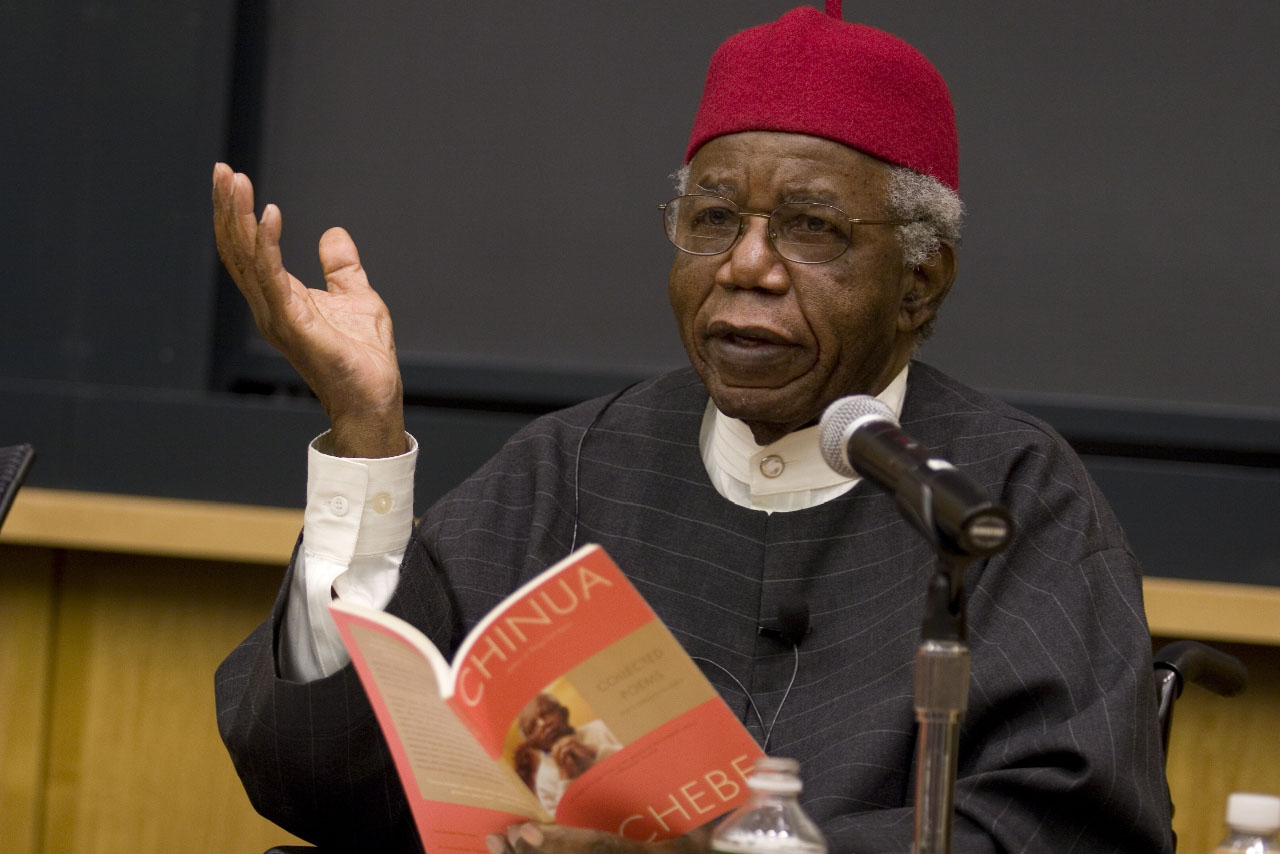 Chinua Achebe
"Perhaps the strangest of these events took place in my own state, Anambra, where a governor was kidnapped by a criminal gang who claimed that they had "fixed" the election and earned the right to receive the state budgetary allocation. Whatever the merit of this bizarre story the governor refused to turn over the allocation to these thieves and began to spend it on building roads and bridges which nobody had done in decades. He began to pay pension to retired civil servants who had not been paid in years. Anambra state was transformed overnight. No where else in Nigeria had such a change happened. Governor Ngige became the people's governor.
"One would have thought that our anti-corruption president, Chief Obasanjo, would have embraced Governor Ngige as a fellow fighter against corruption. But no. The fellows demanding the state revenue were Obasanjo's friends who in anger set about burning down and destroying state property while the Police stood at a distance, watching.
"I have told this story again although we all know it. I am retelling it because as it goes with Anambra, so will it go with Nigeria.
"As Nigeria gets ready for the election of Governors, Anambra State is in a quandary. President Obasanjo's hatchet man for elections is determined that only one candidate will be allowed to run in the state and has gone ahead to disqualify everybody else so that the President's favourite man will be alone in the field. If this plan goes through, it would amount to nothing less than the disenfranchisement of the people of Anambra State.
"I must congratulate the Judiciary on the tough battle many of its members are waging for the soul of Nigeria. The Senate came ever so close to snatching Nigeria out of the fire, and then… That was a historic moment lost. What a pity!"
Chinua Achebe
Annandale-on-Hudson, New York, USA
March 31, 2007
-